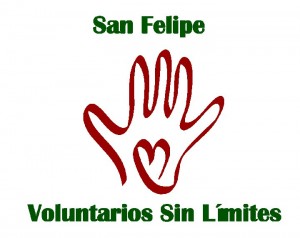 San Felipe Voluntarios Sin Limites translated to English means Volunteers Without Limits. It is a Mexico Civil Association (non-profit).
Our volunteers are a diverse group of people from Mexico, the U.S. and Canada. We are a group of dedicated and caring individuals who are willing to do whatever it takes to make our community a better place, and to offer a greater quality of life to all who live here.
We are not new. Only the name and the board are. We have been volunteering and working in the community and will continue to do the work we have been doing with a commitment even greater than before.
We will continue to provide food for the hungry, services and programs for handicapped children, day labor programs and other community assistance/support programs such as finding wheelchairs, dispensing diapers, transportation to medical appointments. etc.
Things are changing in the world and now more than ever it is important to work together as a community to bring about positive change and to help San Felipe continue to grow and become a thriving self-supporting and self-sustaining community.
Volunteers Without Limits is committed to working side by side with our community leaders, civic groups, business leaders/owners and individuals to make that happen.
Please click on the links at the top of the page to review the programs and services we offer.
Our motto is:
JUST SAY YES!
Donate Now!